Board Leadership – The Series w/Wendy Biro-Pollard, BoardSource Certified
June 9, 2021 @ 12:00 pm

-

1:30 pm
Board Leadership Series- The Series w/Wendy Biro-Pollard, BoardSource Certified Governance Consultant
Recruiting Board Members and Keeping Them Engaged – 6/9/21, 12-1:30p
Nothing is more important to the health and sustainability of your organization than finding highly qualified and enthusiastic people to serve on your board and committees. But many organizations struggle to identify the right leaders.
The job of board building is about more than just filling slots. It's about finding leaders who have skill sets and perspectives that align with your organization's strategies, goals and needs—not just now, but into the future.
This session will show you the steps to building an effective board. Understanding these steps can help you avoid the common ups and downs of building and maintaining a diverse, inclusive and enthusiastic board.
What we will cover:
• Determining the board building process
• Creating a recruitment plan that will help ensure you have members with the right blend of skills, expertise, and community connections.
• Exploring the benefits of a governance committee that will support and strengthen overall board performance and recruitment.
• Cultivating candidates—help them find you.
• Identifying board and committee recruitment tools and resources.
Show Me the Money: Creating a Fundraising Culture – 6/16/21, 12-1:30p
Fundraising is not an easy task, and yet, it's critical to ensuring that your organization has the necessary resources to meet your strategic goals. Creating a culture of philanthropy that strengthens your organization's capacity requires a collaboration between staff, board and committee members.
Identifying board members with the right skills to support your fundraising efforts is one part of the process. Engaging all board members in raising money is the goal.
In this session, participants will explore best-practice tools and resources that can help build a successful team.
You will be able to
• Demonstrate a working knowledge of the roles that board and staff members play in fundraising.
• Understand fundraising fundamentals and strategies.
• Outline how board members can be most engaged in various fundraising strategies.
The Board-Staff Partnership – 6/23/21, 12-1:30p
Boards work best when they focus on setting policy and strategy. Staff succeed when they are free to manage day-to-day operations under the direction and planning of visionary board leaders.
This session will provide guidance on how to distinguish between governance and hands-on management. It will help executive directors and board members clarify their unique and critical roles and strengthen their capacity to share leadership through a discussion of the following topics:
• characteristics of an effective partnership
• board/CEO relationship
• sharing leadership
• board chair responsibilities
• how to govern more and manage less.
Building a High-Performance Board – 6/30/21, 12-1:30p
The enormous responsibilities of nonprofit boards cannot be accomplished efficiently unless all members are actively engaged in supporting the strategic planning process and ensuring that those goals are being met.
This course is designed for individuals interested in taking their leadership to the next level and gaining a clearer understanding of how to develop and support an effective board structure. This session is especially appropriate for boards that understand governance basics and want to accelerate their performance for mission impact.
What we will cover:
• The organization's lifecycle and how it impacts on your leadership's capacity.
• Key governance principles that distinguish exceptional boards.
• Tools and practices of exceptional boards and how to implement them in your boardroom.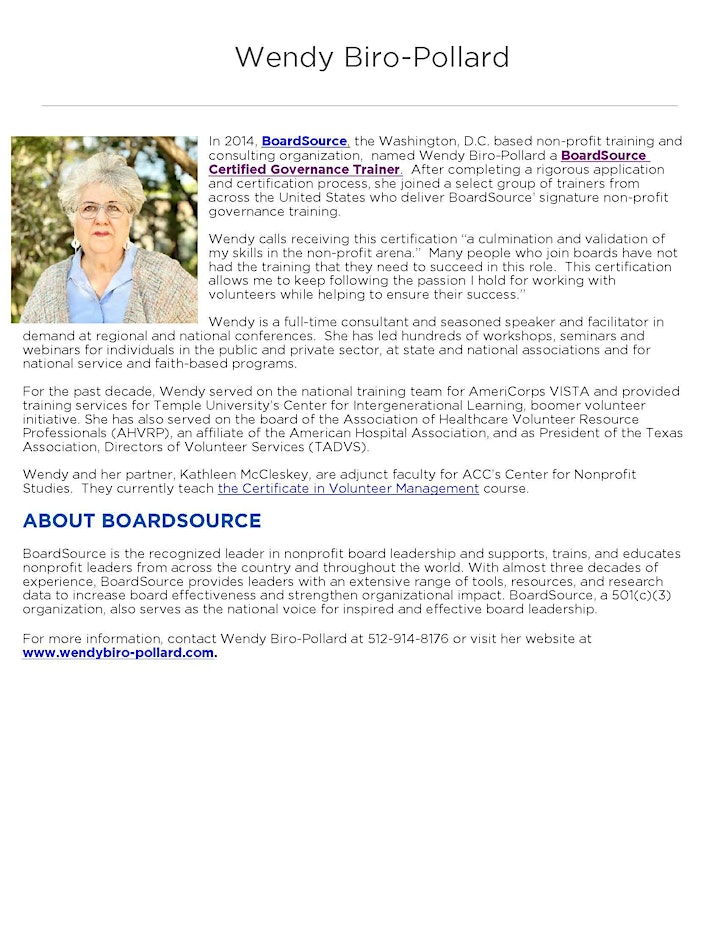 Related Events