Harnessing the "Yes and Brain" for Nonprofit Professionals:
November 2, 2021 @ 12:00 pm

-

1:00 pm
Strengthening communication, problem-solving flexibility, and improving collaboration w/ Lacy Alana
When our "Yes And Brain" is activated, we're able to effectively problem-solve difficult challenges, creatively innovate solutions, collaborate successfully, meet others where they are, and to understand both ourselves and others more deeply. This training series will teach you to harness this brainspace so that you can lean into your strengths, identify areas for continued growth, navigate conflicts with more ease, and break away from cycles that are keeping you – or your organization – stuck.
Week 1: An Introduction to the Yes And Brain model. Week 1, we will dive into the Yes and Brain framework holistically. I'll present a new framework that you can use to conceptualize your interpersonal exchanges, the ways that you work with others, and the patterns that you have that may not be serving you. We'll explore the most common spots where communication breakdown occurs – and what you can do about it.
Week 2: Problem-Solving. Week 2, we'll dive into cognitive flexibility and the ways that we can harness cognitive shifting to improve our problem-solving abilities. Often, we get stuck repeating the same patterns over and over in our personal and professional lives, and even though we know it isn't working (and maybe even know what we "should" being doing instead….it can be hard to make changes to systems and patterns. We'll explore why, and what you can do about it!
Week 3: Internal Tracking. Week 3, we'll explore a tool that you can use to better understand yourself, others, and the exchanges that you have with them. In our fast-paced world, we are in near constant communication. Despite that, misunderstandings abound. In this training, we'll explore skills that you can use to strengthen your internal sense of self, communicate more clearly, and invite new levels of awareness into your work life.
Week 4: Collaboration.Week 4, we'll explore collaboration through the Yes And Brain lens. We'll explore ways to optimize your collaborative capabilities to generate more creativity, more collective problem-solving, and the top behaviors that bring you in (or out) of connection with others.
Week 5: Yours, Mine, and Ours. Week 5, we'll explore mutual responsibilities in the workplace, and how to balance communicating needs and boundaries, while also not taking on other people's stress, problems, or difficulty as your own.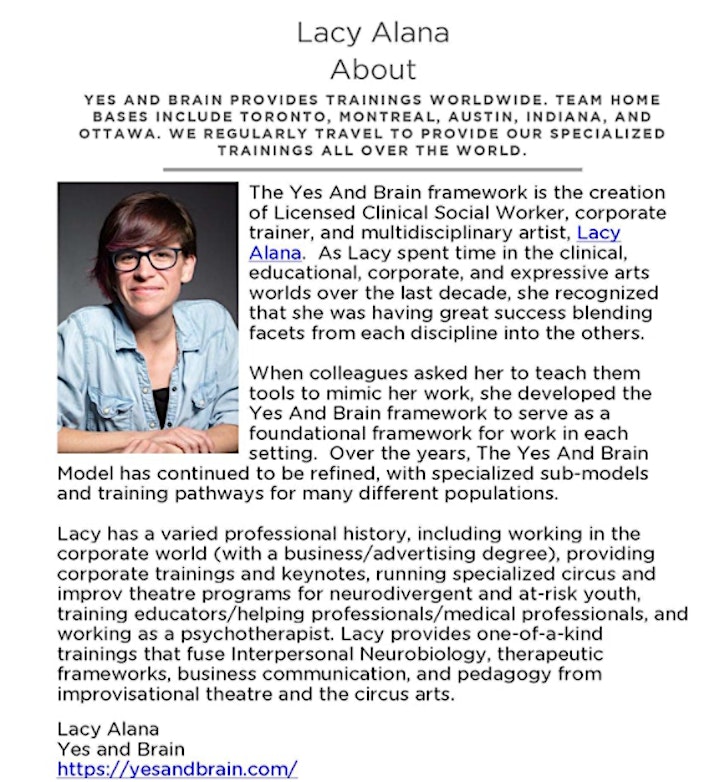 Related Events