Seeing the Whole Picture: Tools for Assessing Challenges as a Team
October 9, 2020 @ 12:00 pm

-

2:30 pm
Workshop Focus: Collaboration, active listening practices and creative problem solving
(Over)Coming Together: Thriving Teams and Other Renewable Resources An Online Series
Workshop Description: Is your team stuck in a rut? Are you looking for creative solutions to recurring problems? Do you want to harness more strengths from your whole team with greater efficiency? Discover new tools and solutions from a surprising source: art! This workshop will equip participants with versatile tools that create collaborative, supportive environments for teams to tackle complex problems. All workshops can be attended individually or as teams
Series Description: Treat yourself and your team to a time of refreshment and professional development in the area of communication, collaboration and creative problem solving! In these hands-on workshops, we'll draw from the creative arts and learn some mental wellness practices that will enhance your team's ability to collaborate, especially in virtual spaces and during times of great challenge. You'll also have loads of fun! All workshops can be attended individually or as teams. Each workshop's content is intentionally standalone, however, each session also builds on earlier material.
Dr. Hannah Wong holds a doctorate in art history and has been teaching in museums and higher education institutions for over a decade. She is also the founder of Vox Omnibus Consulting, a professional development company that creates engaging, arts-and-wellness-based workshops for more robust team collaboration, communication and creative thinking.
Jennifer Pappenhagen earned her MA in English literature with a field specialty in modern British theatre from the University of Texas at Austin. She taught literature, rhetoric, and writing at UT for six years and has 13 years experience teaching the humanities in various Texas high schools. Before moving to Austin, Jennifer was actively involved in the Houston-based Fort Bend Community Theatre as an actor, director, children's theatre teacher, and playwright.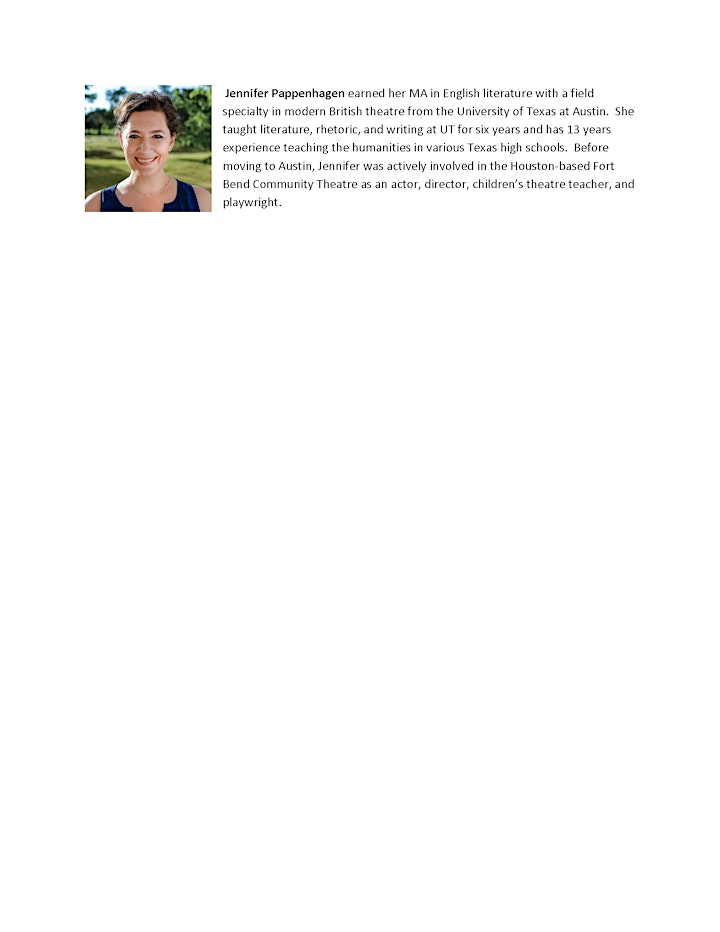 Related Events