Strategic Alliances & Funder Connections Series w/Susannah Erler
July 1, 2021 @ 12:00 pm

-

1:30 pm
Strategic Alliances and Funder Connections Series w/Susannah Erler
Strategic Alliances and Funder Connections Series July 1, 8, 15, 22 & 29th @ noon.
July 1st at noon
Funder Focus: Connect with The Moody Foundation
Gain insights from and interact with the Moody Foundation – whose mission is to empower Texas communities to thrive and prosper. Senior Grants Officer Bernice Torregrossa will describe the philanthropic work of the foundation, including pivots made in response to events of the past year. Nonprofit professionals: come and learn more about the Foundation's priorities and about what makes an inspiring grant proposal from a funder's perspective.
July 8 at noon
Nonprofit Professionals: Let's Talk About Your Career
We entered the nonprofit sector for many reasons. Now that you are here, what will your career path look like going forward? Whether or not you are currently looking for a new job, it is a good idea to periodically spend time on this question. In this session, you will actively start that process: examine your work values, learn about career scenarios, hear job search tactics and network with other nonprofit professionals.
July 15 at noon
Funder Focus: Connect with The Trellis Foundation
Your participation is invited as we learn more about The Trellis Foundation – whose focus is on improving postsecondary attainment for low-income students and students of color in Texas. Gain insights about grant-making organizations from Jenny Achilles, Director of Partnerships and Programs, as she describes the Foundation's collaborative approach to changing policy, practice and systems.
July 22 at noon
Fundraisers' Assembly: Tips and Networking
This session is designed to be like a mini-conference. You'll get the knowledge, networking and inspiration of a conference in a fraction of the time. Susannah Erler, Certified Fundraising Executive and self-described nonprofit geek, will share fundraising tips, facilitate discussion and create a chance for networking. Break out of isolation, get an infusion of information and connect with other nonprofit fundraising professionals.
July 29 at noon
Funder Focus: Applied Materials' Community Support
Come to hear and engage with Michele Walker-Moak, Applied Materials Inc.'s Manager of Global Community Affairs. Learn more about their grant-giving process and about what makes a strong application. The focus areas for Applied Materials, Inc. and the Applied Materials Foundation include: Education, Civic Engagement, Arts and Culture and the Environment. Support is also given for natural disaster relief and recovery and for the Foundation's signature women and girls' empowerment initiative, Generation Girl.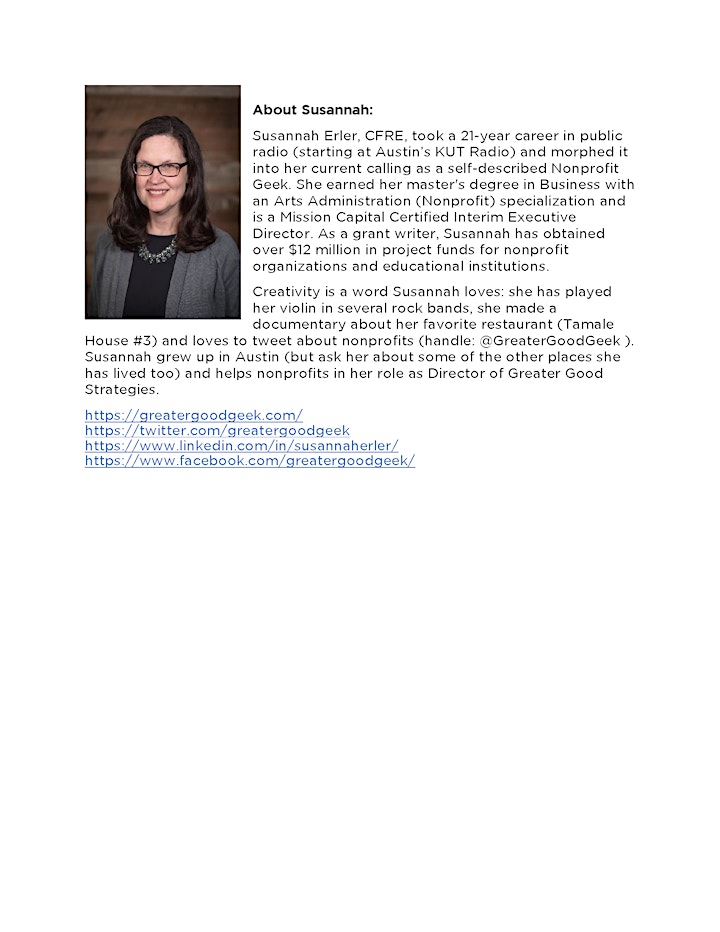 Related Events